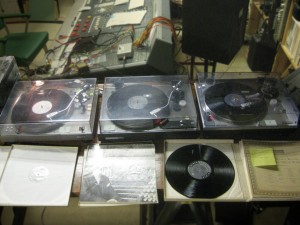 Wouldn't you love to be able to play those old tapes and records once again?  JPS uses standard techniques to restore old recordings.  We have several different playback machines to suite many formats of the past.
We have the equipment to thoroughly remove dust and contaminants from the grooves of old records reducing the amount of surface noise.  We also use cutting edge software to further reduce surface noise and tape hiss.
Caution:
Older tapes, especially some of those manufactured in the late 70's into the 80's should NOT be played until they have been restored.  Playing these tapes will not only destroy the tape itself, but may also cause serious harm to your machine. JPS restores these tapes to playable condition and a transfer is quickly made. Please inform us of any noise reduction that may be present.